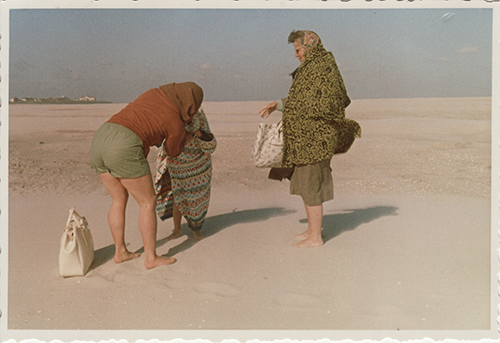 Le collectif
Frac Île-de-France regularly gives carte blanche to an artist to produce a shared project that is open to everyone, as part of its antenne culturelle or cultural hub. Adults who wish to join the established group are invited to take part in different stages of the project. The different meetings usually take place in the evening over several weeks, so as to allow volunteers to take part. Based on amateurs participating in workshops, this programme enables everyone to establish an "active" relationship with contemporary creation. Pierre Ardouvin*, Michel Blazy*, Valérie Jouve*, Tania Bruguera, Denicolai & Provoost* and Julien Prévieux* have previously taken part in this context.
* Artists whose projects have led to a publication.
Images seeking stories – Valérie Mréjen
Invited by the frac's antenne culturelle, programme le collectif,  Valérie Mréjen held a collective workshop in October – November 2016.
In a blend of plastic arts, cinema and literature, she explores the unique characteristics of fiction in several forms. Between individual and shared stories, her works summon the concepts of memory, intimacy and language.
Some adverts allowed the artist to gather a group, whose participants were required to bring a family picture. "Select some of your family photos. 
You do not necessarily need to recognise the faces. On the contrary, you don't really need to know who is who". The workshop sessions aimed at elaborating stories from those images, in order to collectively write a fiction consisting of envisaged recollections. From the thirty-six chosen images, two stories were written: The emancipated woman, and The doubles.
The final edition takes the shape of a postcards collection, kept in a cardboard box. The reader is invited to either follow the stories' linear thread, or to freely reappropriate them by elaborating new ones. The workshop resulted in the movie Four children, diffused below.
The edition Images en quête d'histoires will be launched on Wednesday, April 5th 2017, Plateau-Apéro, 7-9pm.
Graphic design: Villa Böhnke
L'antenne culturelle (located 50m from Le Plateau)
22 cours du 7ème art
75019 Paris, France