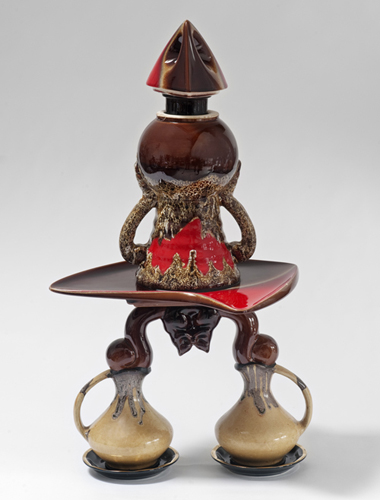 Opening on November the 20th, from 8pm.
With the works by : Stéphane BELZERE-KREIENBÜHL, Dara BIRNBAUM, Léo DELARUE, Fred DEUX, Richard FAUGUET, Jan KOPP, ORLAN, Philippe POUPET, Nathalie TALEC, Zin TAYLOR.
Whether they symbolise original Chaos, are considered figures of evil, or treated as subjects of research, monsters are timeless. According to Yvanne Chenouf, psychoanalysis and Surrealism in the 20th century led monsters to gradually creep into the individual… Has the man of the 20th century become a monster?
The exhibition 'L'Art dans tous ses états' angles toward the concept of a monster gallery, making use of the empirical question of demonstration, in that 'where one deals with image, one also deals with the notion of demonstration' (Pierre Legendre). In this respect, the frac île-de-france collection is a tool of choice to question the spectacular dimensions of demonstration.
The theme was chosen to mirror the arts project implemented in schools in Limay, during the course of which pupils will work with an artist on the theme of hybrids and monsters as from June 2016.
Les Réservoirs
2 rue des réservoirs
78520 Limay
Jeudi et vendredi, 9h-11h et 14h-18h
Samedi et dimanche 15h-18h
Sauf jours fériés
http://lesreservoirs.free.fr