septembre 2017
save the dates
Wed 13
Start of the round "Small Wednesday Workshops"
Realise your own animated movie
l'antenne culturelle, paris
2.30pm – 4pm

Wed 20
Opening of the exhibition Boom boom run run – Pierre Paulin
le plateau, paris
6pm – 9pm

Sat 30
Opening party of the exhibition Hôtel du Pavot 2
le château, rentilly
3pm – 5.30pm

le plateau, paris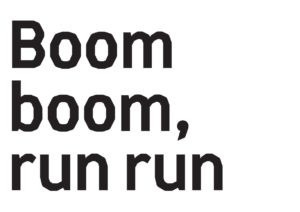 Boom boom, run run – Pierre Paulin
21.09 – 17.12.17
Opening on Wednesday 20 September, from 6 to 9pm

Curator: Xavier Franceschi
At le plateau, frac île-de-france presents the first monographic exhibition to be dedicated to Pierre Paulin. Comprising of mainly new works, Boom boom, run run  expresses the artist's interest in language, appearing here in a multitude of forms, from poetry, essay and translation, to prêt-à-porter. Boom boom, run run is also the title of an essay written by the artist. Starting with a short cultural history of sneakers, this essay recounts from a personal perspective the development of sportswear around concrete poetry.
Everyday, at 5pm, outloud reading in the exhibition space
le château, rentilly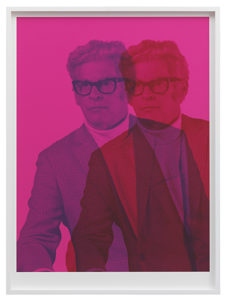 Hôtel du Pavot 2
30.09.17 – 04.02.18
Opening on Saturday 30 September, from 3pm onwards

Curator: Xavier Franceschi
Hôtel du Pavot 2 explores the many facets of duplication – and, by extension, repetition, reflection and replay – through a series of works drawing largely on the collection of the frac île-de-france and complemented by loans from other Fracs. A wealth of formal devices is employed to undermine the idea that the main defining characteristic of the work of art is its uniqueness. However, seeing things double might well mean seeing them more intensely.
A free shuttle will leave from place du Châtelet (Paris)  at  2pm on Sat 30 Sept.
Booking is mandatory: contact reservation@fraciledefrance.com
children & teens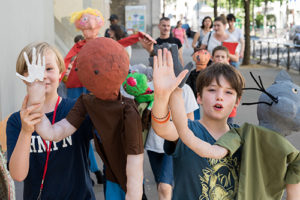 Small Wednesday Workshops
Realise your own animated movie
13.09 – 18.10.17
2.30 pm – 4pm
Round of 6 workshops
Because Pierre Paulin is working on the hand imagery in cartoons, attendants will experiment production techniques such as stop motion or flip book, in order to make their own animated movie.
Free workshops, suscription per round mandatory
contact 01 76 21 13 45 / or publics@fraciledefrance.com
l'antenne culturelle (50m far from le plateau)
22 cours du 7è art
75019 Paris
we do recommend
Festival d'Automne

> Noé Soulier – Performing Arts
Centre Pompidou
13 – 15.09 – 20h30
Alors que les rapports entre « arts de la scène » et « arts de l'exposition » ne cessent de se transformer, donnant lieu à de multiples formats où les corps envahissent les espaces muséaux, Noé Soulier s'est demandé comment déplacer l'équation : et si c'étaient les œuvres, et non les corps, qui se pliaient à un autre espace ? Si c'étaient les objets qui investissaient le cadre du spectacle vivant ?
> Les Grands
Conception et mise en scène : Fanny de Chaillé / Texte : Pierre Alferi
Centre Pompidou
20 – 23.09 – 20h30
Dans la vie réelle, nous glissons, plus ou moins insensiblement, d'un âge à l'autre. Sur le plateau des Grands, trois personnages grandissent à vue. De l'enfant à l'adulte en passant par l'adolescent, trois âges de la vie se superposent, dialoguent, s'interrogent, s'opposent, se retrouvent.
Know more about the programme…
> Preferential rate : 14€ (within the limit of available seats) when mentionning: Offre Le plateau-FAP (call 01 53 45 17 17)
Centre Pompidou
Place Georges Pompidou
75004 Paris
and also
Conference
Atelier Baldinger • Vu-huu – Unreleased projects
Centre Culturel Suisse
13.09 – 20h
Cette conférence proposera une plongée dans l'univers de l'atelier graphique suisse-allemand fondé en 2008 par André Baldinger et Toan Vu-Huu : leurs projets en identité visuelle, édition, signalétique, muséographie et typographie, sont principalement consacrés au domaine culturel, dont le frac île-de-france.
Read more…
Free entrance, within the limit of available space. Booking recommended:
reservation@ccsparis.com / 01 42 71 44 50
Centre Culturel Suisse
32-38, rue des Francs-Bourgeois
75003 Paris