September 2019
calendar
Grand Opening
Foncteur d'oubli
Wednesday 18.09.19
6pm-9pm
le plateau
.
Grand Opening
D
Friday 20.09.19
7pm
le château
.

The window display : Sergio Verastegui
18.09-03.11.2019
Grand Opening  on the  10.02.19
Children : Wednesday workshops
Comme à la maison 
11.09-09.10.19
5 practical art sessions
for 6-12 year olds
l'antenne culturelle, paris
le plateau, paris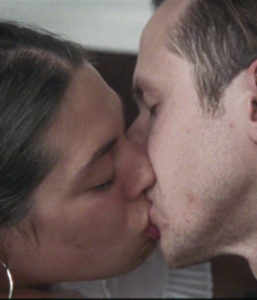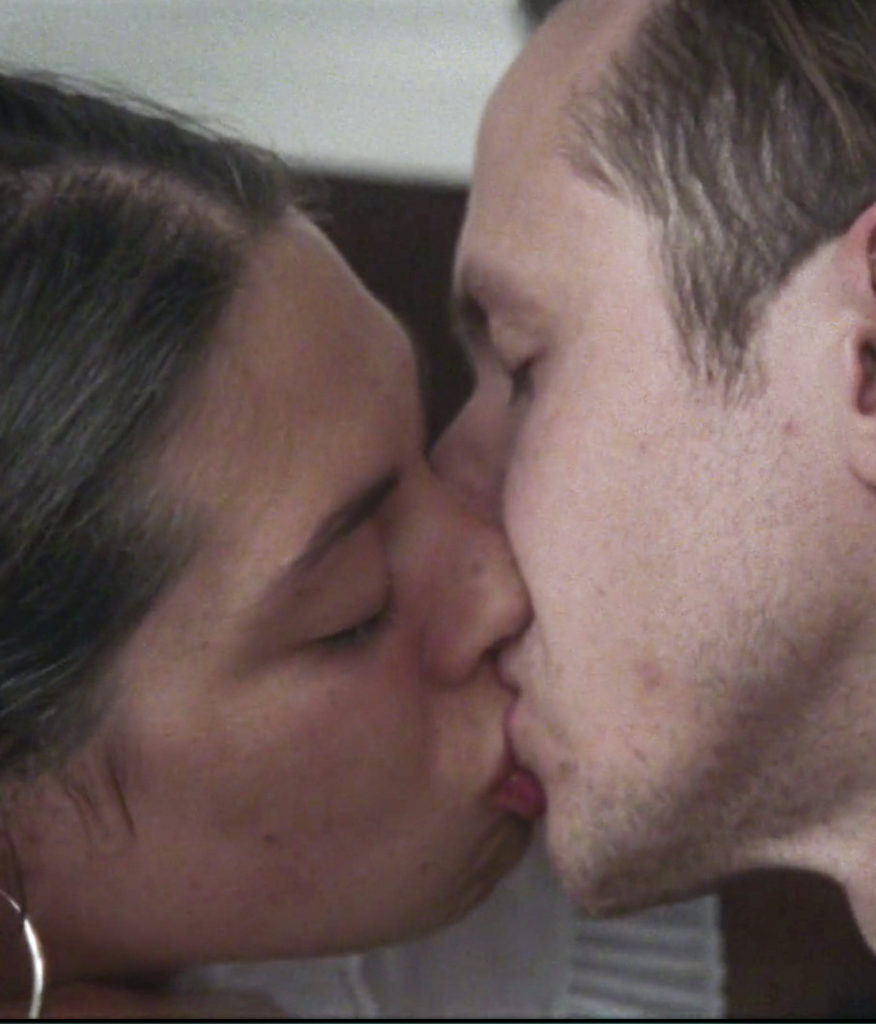 Grand Opening on Wenesday 18th September, 
from 6pm to 9pm
With
Nina Beier, Karina Bisch, Théophile Blandet, Nicolas Boone, Marcel Broodthaers, Maurizio Cattelan, Etienne Chambaud, Bastien Cosson, Eric Croes, Jean Derval, Nathanaël Dorent, Simon Dybbroe Møller, Diego Giacometti, Eileen Gray, Michel Herreria, Anne Holtrop, Agata Ingarden, Cooper Jacoby, Tarik Kiswanson, Max Lamb, Marie Lund, Robert Mallet-Stevens, Martinez Barat Lafore Architectes, Mélanie Matranga, Orta Miklos, Julien Monnerie, Cécile Noguès, Christopher Orr, Rikkert Paauw, Gaetano Pesce, Naoki Sutter-Shudo, Oscar Tuazon, Van Wassenhove Atelier, Octave Vandeweghe, Raphaël Zarka, natural expressions, ceramics from a private collection
Exhibition curator: Benoît Maire
Scenography : Ker-Xavier
Artist Benoît Maire is guest curator of a group exhibition that will take place at Le Plateau in autumn 2019.
Benoît Maire gathers artists, designers and architects in an exhibition that considers, based on customary use, relationships between art and design and architecture, reviewing the premise that the arts are free and design objects are subject to constraints – due to their functional purpose.
le château, rentilly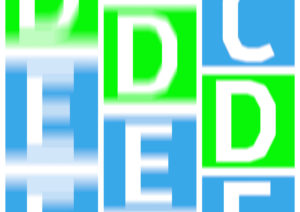 D
20.09 – 22.12.19
Grand Opening on Friday 20th September, 
from 7pm*
With
Stéphane Dafflon, Bady Dalloul, Libor David, Richard Davies, Jean Daviot, Lieven de Boeck, Hubert de Chalvron, Harald Thys & Jos De Gruyter, Jean-Charles de Quillacq, Willem de Rooij, Herman De Vries, Olivier Debré, Philippe Decrauzat, Koenraad Dedobbeleer, Christine Deknuydt, Léo Delarue, Anne Deleporte, DenicolaI & Provoost, Marc Desgrandchamps, Angelica Detanico & Raphaël Lain, Fred Deux, Marc Devade, Livia Deville, Deyi Studio, Guillaume Dégé, Maurico Dias & Walter Riesweg, Philip Lorca di Corcia, Erik Dietman, Martin Disler, Thea Djordjadze, Jason Dodge, Florence Doléac, Kaye Donachie, David Douard, Martine Dubilé, Dunne & Raby / Michaël Anastassiades, Jérôme Dupin, Simon Dybbroe Moller
Works from the frac île-de-france collection
Curator : Xavier Franceschi
frac île-de-france, le château / Parc culturel de Rentilly – Michel Chartier
From 20th September 2019 to 22nd December 2019 the frac île-de-france is holding an exhibition with works from its collection at the Château de Rentilly (Parc culturel de Rentilly – Michel Chartier), where the selection of works is left purely to chance : a random draw, open to everyone  via a plugin on the frac website, has taken place from Marsh 05 to Marsh 25, to choose a letter from the alphabet determining the artists to be exhibited. The 'winning' letter is 'D' : all artists in the collection whose name begins with 'D' are  part of the exhibition and all their works will systematically be exhibited**.
*Free shuttle Paris-Rentilly  
Friday 20.09.19 for the opening,
leaving from Place de la Bastille at 6.15pm
Booking mandatory: reservation@fraciledefrance.com
** Apart from works requiring extensive restoration or those on loan that would be too complicated to move.
The window display : Sergio Verastegui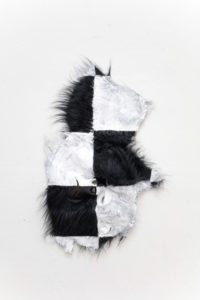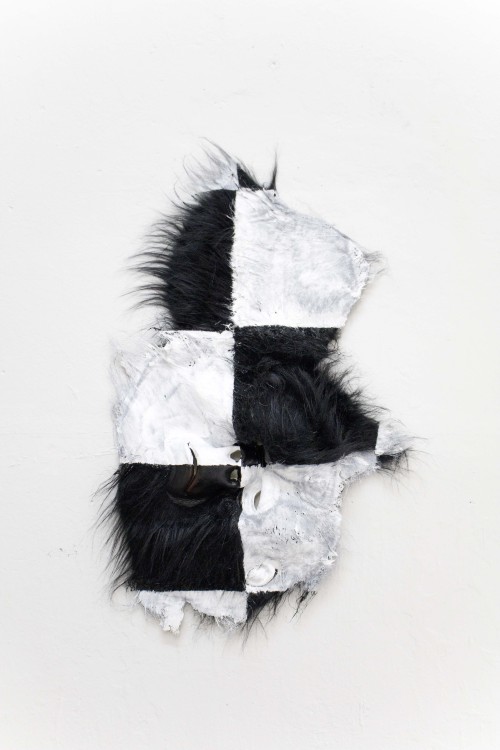 Sergio Verastegui
18.09 – 03.11.19
Pellejos sueltos (dépouilles éparses)
(Grand Opening on the Wednesday, September, 2 from 6pm)
'Pellejos sueltos' (Scattered Remains) is a set of pieces mid-way between painting, sculpture, object and installation. These pieces were designed to adapt to a specific space (a living room with a checkered floor in Madrid) and subsequently be extricated from it.
In this change of context, the pieces gain an aura of trophy or relic, thereby reproducing a process of conquest of sorts.
A parallel narrative runs through the piece referring to a cognitive experiment known as 'The Invisible Gorilla' (1), implemented to show a form of perceptual blindness.
1. https://www.youtube.com/watch?v=vJG698U2Mvo
_
L'antenne culturelle (50m far from le plateau )
22 cours du 7ème art
75019 Paris, France
Children : Wednesday workshops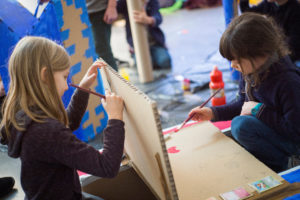 Comme à la maison
11.09 – 09.10.19
5 practical art sessions
for 6-12 year olds
14h30 – 16h
Collectivement, les enfants conçoivent et créent les objets et le mobilier d'une maison miniature, du jardin à la salle de bain.
__
L'antenne culturelle (50m far from le plateau)
22 cours du 7ème art
75019 Paris, France