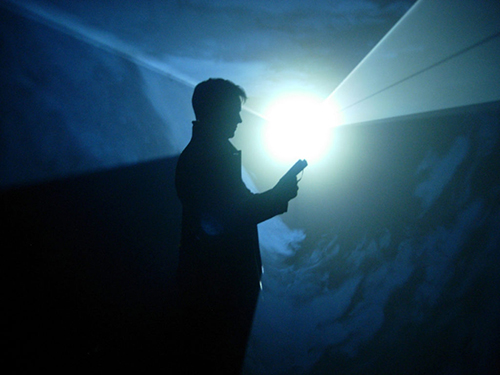 A FRAC collection's exhibition at the National Museum of Singapore

With  the works of:
Absalon, Louidgi Beltrame, Michel Blazy, Céleste Boursier Mougenot et Ariane Michel, Louis Cane, Martin Creed, Philippe Decrauzat, Edith Dekyndt, Julien Discrit, Richard Fauguet, Michel François, Aurélien Froment, Dominique Gonzalez-Foerster, Hans Haacke, Raymond Hains, Pierre Huygue, Ange Leccia, Claude Lévèque, Anthony McCall*, Adrien Missika, Hans Op de Beeck, Philippe Parreno, Elisa Pône, Hugues Reip, Claude Rutault, Anri Sala, Sarkis, Alain Séchas, Su-Mei Tse, Ann Veronica Janssens.
Curator: Laurence Gateau, Anne-Claire Duprat, Iman Fairuz Ismail, National Museum of Singapore.
What is Not Visible is Not Invisible broadly surveys the imaginary and the temporary through selected artworks from the French regional collections of contemporary art (FRAC). The title and design of this exhibition take inspiration from the artwork of the same title by Julien Discrit.
The visual paradox initiated in this modest yet profound work sets the premise for the deep-seeded themes that resonate throughout the exhibition. The 34 artworks by 32 French and international artists navigate a transient journey through both the philosophical and the physical by means of unconventional
approaches in art-making. Together, the artworks encourage the audience to interact with and explore the intangible, the emotional and the volatile relationship between the abstract, the organic and the structured.
*artist from frac île-de-france's collection