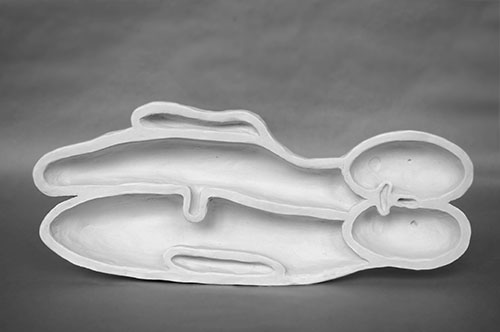 Opening of the Window Display May 2nd from 7pm to 9pm
 Every month, the "Window Display" at l'antenne is home to a new art project linked to le plateau's exhibitions, collection and educational outreach ventures.
Bevis Martin and Charlie Youle have been working together since 2004. Working mainly in sculpture, they explore our ways of knowing the world, playing with the shifts in meanings in knowledge transmission books, educational handbooks and children's drawings.
Through the works produced for the Window Display they offer different ways of representing knowledge. They give shape to images made to solve mysteries such as reproduction or geometry. It is a projection of concepts or theories, which give rise to mental images. Schematic representations of abstract or hidden things serve as a starting point for the design of objects with functional, decorative aspects, collecting artifacts or educational materials.
_
L'antenne culturelle  (50m far from le plateau)
22 cours du 7è art
75019 Paris, France