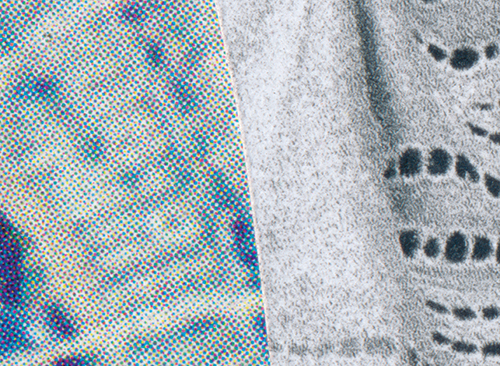 Opening on Wednesday 1 February 2017, 7-9 pm.

Éléonore False produces her works using fragmented images that she subjects to different processes such as scanning, photocopying, enlargement, etc.
Once established in the space, the images retain their flatness, yet paradoxically attain a form of third dimension. The depiction of gestures and postures vouch for the artist's interest in choreography, as reflected in Remise en forme (Dana Reitz), 2014, a work of art belonging to the Frac île-de-France collection and featuring a dancer in motion.
The artist designed an original device for the showcase combining wallpaper and a love seat produced in wicker – a technique borrowed from arts and crafts. The chair comprises two seats and evokes a body position conducive to interaction between two people. The ensemble forms a visual assembly of sorts urging passers-by to look at it. A hollowing of the surface, an optical illusion, occurs between the moiré patterns of the images and the woven frame of the love seat.
This project was selected by the sponsorship committee of the Fondation Nationale des Arts Graphiques et plastiques which has given its backing.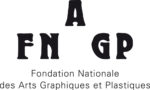 L'antenne culturelle (located 50m from Le Plateau)
22 cours du 7è art
75019 Paris, France
Every month, the "Window Display" at l'antenne is home to a new art project linked to le plateau's exhibitions, collection and educational outreach ventures.