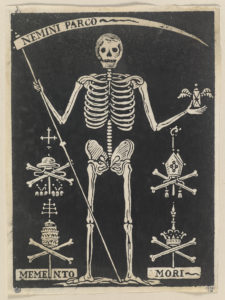 Grand Opening on Sunday 8th March, from 3pm*
frac île-de-france, le château
Based on the École nationale supérieure des beaux-arts de Paris collection
Curators: Simona Dvořáková, Cesar Kaci, Sarah Konte, Yannis Ouaked, Violette Wood et Kenza Zizi, under the direction ofJean de Loisy.
With reference to the famous themed cabaret, founded in Montmartre at the end of the 19th century, that deployed its parodic and funereal ambiance by making light of morbid situations with inflammatory irony, the frac île-de-france is presenting at the Château de Rentilly Le cabaret du néant. This exhibition, created by students following the exhibition oriented professions course at the Beaux-Arts de Paris, combines contemporary artists with masterpieces from the Beaux-Arts de Paris collection and the frac île-de-france.
If the subject: 'remember you will die' has infiltrated art and literature, particularly since the famous 15th century Dance of Death, it has engaged audiences and creators time and again in spite of far-reaching transformations, from tragedy to parody, according to changes in society and its morals and religious beliefs, as well as scientific discoveries. Yet, contemporary with the famous cabaret established in 1892 by Antonin at 34 rue de Clichy and which gives its title to the exhibition, the concept of nothingness has a different interpretation, another vision of the same void, one that is no less awful but synthetically the opposite, that in the wake of Symbolism and especially Mallarmé led the creator to consider human life as merely empty forms of matter (..)launching itself madly into dream, despite its knowledge that dream has no existence(..) and extolling, in the face of the void which is truth, these glorious lies! The role of the poet, and therefore art, would become according to Mallarmé to drag man, like from the bottom of a shipwreck, from this  'nothing' through the ultimate art of creation.
The three parts of the exhibition: le festin des inquiétudes – anatomie de la consolation and fin de partie will enable, from Dürer to Rembrandt, from Gautier d'Agotty to Houdon and Séchas, from Beckett to Gino de Dominicis and young artists from the École des Beaux-Arts and some of their teachers to become acquainted with the most significant humourous or serious expressions of the confrontation of the living, that we indeed are, with the impermanence that we all share.
Under the guidance of Jean de Loisy and Thierry Leviez
The exhibition oriented professions course is the result of a collaboration between the Beaux-Arts de Paris and the Palais de Tokyo.
*Free shuttle Paris-Rentilly 
Sunday 08.03.20 for the opening,
leaving from Place du Châtelet at 2pm
Booking mandatory: reservation@fraciledefrance.com