With
Marvin Gaye Chetwynd
Chosil Kil
Marie Lund
Anouchka Oler
The "revue" (show) L'Homme aux cent yeux  – in a nod to its glorious ancestors of the 30s and to the spirit of the Music Hall – proposes an annual programme of live interventions, open to all kinds of artistic creation (acoustic, filmic, choreographic, etc.), by artists invited to occupy the exhibition spaces in two phases. All the artists invited for the previous episodes of L'Homme aux cent yeux* (revue) gather in the empty spaces of the plateau – in between exhibitions – and propose a follow-up to their first intervention for a new happening, acme of the events programme.
__
Program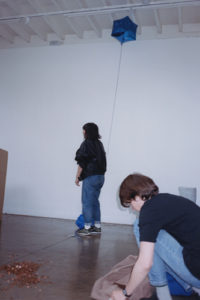 Chosil Kil
Marie Lund
One Hour Long Exhibition
6pm to 7pm
One Hour Long Exhibition was initiated by Chosil Kil and Marie Lund in
2011 and has been shown at South London Gallery, London (2015), Art Sonje,
Seoul (2014), Round Studio, Vilnius (2013), New Gallery, New York (2013),
Shanaynay, Paris (2012) and Supplement, London (2011).
Together with the visitors the artists enter the empty space. Within the next hour the artists unpack, install, adjust, and perform the work before packing up and leaving the space again.
–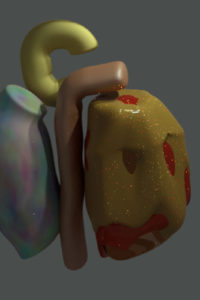 Anouchka Oler
The Thing Show : L'Amour
7.30pm
Born in Saint Malo in 1988, Anouchka Oler grew up in a succession of houses
still under construction. Today, she lives and works in Brussels. The Initiative
of the Mouths and Anxiety # 2 are her last two personal exhibitions held in 2017,
respectively, at Secret Dungeon (NYC, USA) and Pracownia Portretu (Łódź, PL).
She has shown her work in exhibitions and collective events at La Ferme du Buisson
(Noisiel), frac île-de-france – le plateau (Paris), Cooper Gallery (Dundee),
MOTINTERNATIONAL (Brussels) and De Appel (Amsterdam).
In her practice, Anouchka Oler sets up ecosystems in which ideas such as affects, community life and sociability or even the material environment are discussed. Speech is given to both objects and humans, that are worried and amused investigators of these speculative stories.
In her recent performances, she uses public speaking forms such as the one-woman-show or guided tour while forgetting her codes. For the performance seriesThe Thing Show, she is interested in the form of stand-up in which the actress tests with a public a freshly written text commonly called 'material'. At the Thing Show, the material includes a text as well as sculptures and their materials to debate and elucidate existentialist issues.
In this second episode, the Thing Show invites an emotional and pulsative sculpture in an attempt to resolve the big issue of love.
>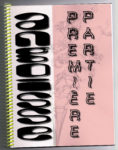 Launch of the edition 
Angoisse : Première Partie
Angoisse : Première Partie is a script retranscription from a performance happened a year before at La Ferme du Buisson. With three sculptures, the artist was doing a one woman show trying to interpret the sens of anxiety.
12 €/ 52 pages / 50 copies
4 special editions : Publication and printed silk tissue (47 €)
Self-produced edition
Graphic design : Roxanne Maillet
–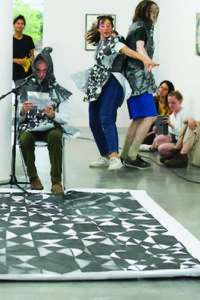 Marvin Gaye Chetwynd
Clic-Clac
8.30pm
Born in London in 1973, Marvin Gaye Chetwynd currently lives and works in
Glasgow. She is represented by Sadie Coles HQ, London. The wacky and unleashed
performances of the British artist Marvin Gaye Chetwynd star characters
adorned with handmade costumes and accessories, and question notions of utopia,
collective, and improvisation. Between carnival, literature and street theatre,
the plays refer both to vernacular heritage and to key figures of contemporary
cultures.
The performance Clic-Clac looks at human cohesion and resourcefulness in response to crisis situations: Abbé Pierre's Emmaus, Michael Reynold's Earthships, the Chernobyl Mega Tomb and Gábor Sztehlo's Guardiopolis.
Solutions that are considered too radical by official policy but that appear through people taking law into their own hands.
Is Clic-Clac an enthusiast's ugly duckling? Is it a relevant, necessary performance or a festive psudo-activity in the margins of real politics?
Referencing Frank Zapa's interviews and Harold Pinter's Nobel Prize acceptance speech Clic-Clac flags up the difference between art and activism.
–
La Cuisine Sauvage
Opening of the dinner, « Inspecteur des travaux finis »
Free entrance- Dinner participation : 5 euros
9pm
In partnership with the Wonder/Liebert.