In 2017, as part of the participatory budget programme, Paris Habitat initiated an extensive consultation among all inhabitants of the Porte de Chatillon (14th district) and Lefebvre-Dantzig (15th district) housing projects to find out their ideas regarding improving their shared living environment.
Together they came up with the idea of devising a cultural programme along with social and festive occasions.
The frac île-de-france has been entrusted with implementing this and invited the artists Tiphaine Calmettes and Séverine Hubard to instigate these programmes for and with the inhabitants.
Project coordination : Émilie Renard
⤷     Séverine Hubard 

La borne
"Conceiving a cultural programme"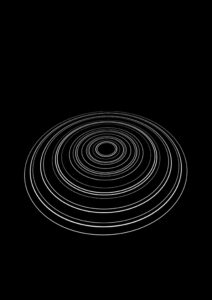 Inauguration Sunday 01.03.20, from 5pm
Free entrance
85 Boulevard Lefebvre, 75015 Paris
Terrain à droite face à l'entrée
La Borne is an installation that winds its way through the garden of a housing estate in the 15th arrondissement of Paris. It follows the irregular, random path of a piece of string, with curves and loops and a denser knotted section. It is fitted with power points and lights up at nightfall, visible as a white line that seems to hover above the dark space between two low-rise blocks dotted with the illuminated squares that signal human presence. People can walk along La Borne by day or night; they can sit on it, plug their devices into it, look around and wait for someone to step onto the knotted platform… a discreet little stage, where things are bound to happen! It's perfect for ephemeral one-man-or-woman shows performed for anyone who happens to be watching, for nobody at all, or for the performer's own pleasure. La Borne is a horizontal sculpture, a practical tool, an available space for sharing something with others.
In 2017, the "Paris-Habitat" association asked the inhabitants of the Lefebvre-Dantzig housing estate for their ideas on how to improve their communal living environment. The overall conclusion of the consultation was that they wanted some kind of cultural experience. The FRAC Île-de-France entrusted the project to the artist Séverine Hubard for a six-month period. Her first response to this vague request for culture was to provide a public terminal in the grounds of the housing estate, in a garden area that was inaccessible at the time. The terminal could be used to create events, by producing sound, light and images. She also asked the inhabitants: what does culture mean to you? What's your personal culture? What would you like to share with your neighbours: a song, a story, an anecdote, a tune, a dance step, a magic trick, a recipe, a language, snatches of a made-up language? This first terminal and these assorted questions resulted in a path that snaked its way across the (now accessible) garden to a little stage, just big enough for one person to present their intangible treasures. La Borne provides neighbours with a means of making things happen, of sharing special moments.
To encourage a regular programme of events, Séverine Hubard has scheduled performances for the first days of February, March, April and May, with solos by inhabitants and others by surprise guest stars.
La Borne is an open artwork, a space to be appropriated and shared, a form that acquires its full meaning when neighbours step onto it, be they spectators or actors, in the "theatre" or on the "stage".
⤷     Tiphaine Calmettes

LE GOÛT DES RÉUNIONS ET DES FESTINS
Making a 'vaissellothèque' (tablewaretheque) with inhabitants