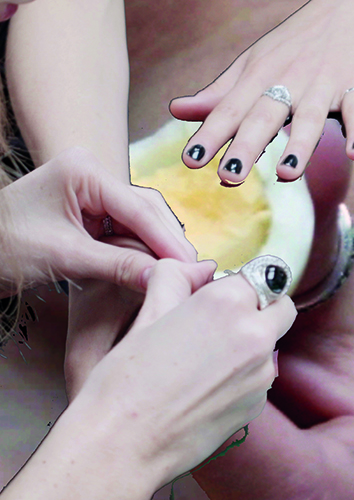 17.11.16 – 19h30
Runes/frieze
Jonathan Martin's works – films, drawings, assemblage and publications – call to mind a strange collection of anonymous and famous icons from Alan Turing to Veruca Salt. They also feature different decorative forms, esoteric symbols, abstract patterns etc. Some come to life with accompanying sound interpretations. There are many incongruous subjects and areas of interest without any notion of hierarchy between popular and highbrow culture. The artist pays particular attention to the historical aspect of the styles, and more generally to many cultural phenomena and their meanings. His favourite themes develop through association, therefore creating new images. His favourite iconographic patterns, from past or more recent eras, on Scottish fabric, painted nails etc., are associated with certain vernacular cultures. His partiality for transmission is visible in the many forms of editions developed by the artist, posters and other fanzines, like the Turpentine project (with Jean-Luc Blanc and Mimosa Echard), opening up to collective and shared working dimensions.
His magazine proposal is organised around a breakfast scene from Joseph Losey's 1968 psycho-thriller. A film and a soundtrack specifically designed for the set reconstruct the elements in a frieze of gestures, patterns and sounds, which the public provided with a plant infusion is invited to experience.
L'Homme aux cent yeux (revue)
Last october, frac île-de-france launched a new event: L'Homme aux cent yeux.
This new review (revue) – in a nod to its glorious ancestors of the 30s and to the spirit of the Music Hall – proposes an annual programme of live interventions, open to all kinds of artistic creation (acoustic, filmic, choreographic, etc.), by artists invited to occupy the exhibition spaces in two phases. The first will consist in evening events during the ongoing exhibitions, with a performative play specially created by an artist for each occasion. The second will take place once during the year, in between exhibitions, when the spaces are empty and awaiting the next installation. For this event – the acme of the review (revue) – all the invited artists will gather and propose a follow-up to their first intervention. These two forms of intervention will enable the invited artists to experiment with new pieces in different contexts and in direct relationship with the public.
* L'Homme aux cent yeux (revue) is a reference to Argus, the all-seeing giant in Greek mythology with a tragic  – and beautiful – destiny.