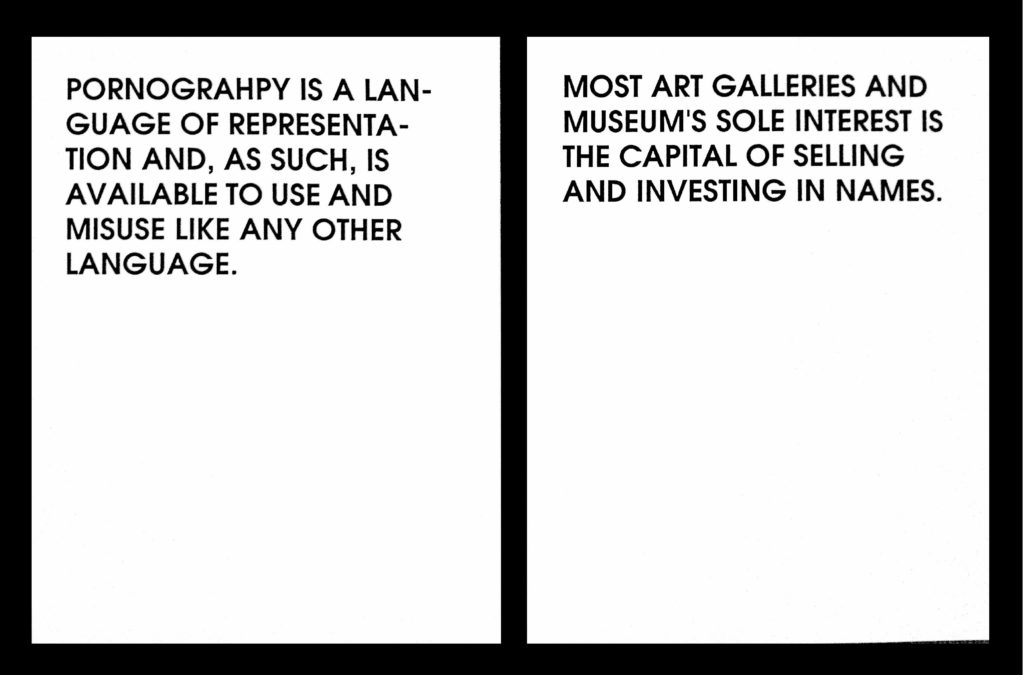 Gina Fistamante's programme for the feminist collective Les Vagues
A day of screenings, discussions and performances bringing together artists, researchers and activists around pro-sex feminism
12pm-10pm
• video programming by Gina Fistamante
&
• films screened on a loop:
– Annie Sprinkle and Carol Leigh, Herstory of Porn (1999)
– Annie Sprinkle, How to be a Sex Goddess in 101 Easy Steps (1989)
• I scroll by Julie Béna (2018, sound piece)
12pm-3pm
Feminist reception of pornographic productions and queer pornography in artistic and institutional spheres
• 12pm: Florian Vörös 'Fetichising difference and politics of seeing'
• 12.30pm: screening of Smooth (2008) by Catherine Corringer
• 1.30pm: Zarra Bonheur (Rachele Borghi/France Kanaan) 'Porn activism everywhere: performing knowledge
• 2pm: discussion between Rachele Borghi, Catherine Corringer, Thibaud Croisy, Florian Vörös, led by Sophie Orlando
3pm-3.30pm
X comme niquer (2018) by Laetitia Paviani
3.30pm-5.15pm
Sex work, feminism and artistic institutions
• 3.30pm : extract of interview between Alberto Sorbelli and Guillaume Dustan in 2001
• 3.45pm : Scarlot Harlot's Interstate Solicitation Tour, 1991 video archive : Scarlot Harlot, ACT UP and P.O.N.Y. (Prostitutes of New York)commited an act of civil disobedience
• 4pm: presentation of Maïa Izzo-Foulquier : "le féminisme pute", conversation with Oélia Gouret and Olga Rozenblum
• 5pm: screening of film Camp Misandre (2017) by Oélia Gouret
5.30pm-6.15pm
• Music and film by Lili Reynaud-Dewar
and Hendrik Hegray
6.15pm-19.45pm
Contemporary cabaret as a place for pro-sex activism
Discussion between Vaslav de Folleterre/Olivier Normand (Madame Arthur's cabaret) and Martin Dust (Le Cabaret de Poussière), led by Isabelle Alfonsi
8pm-8.30pm
Performance by Marianne Chargois, Golden Flux
8.30pm-9pm
Concert by Zelda Weinen, Wedding Blues
9pm-10pm
Screening of a selection of short films by WHAT THE FUCK? FEST¨¨!
Free entry subject to availability. Please note: the exhibition A Study in Scarlet will not be entirely visible.
Our Liquid Desires, a programme by Gina Fistamante for the feminist collective Les Vagues
The exhibition A Study in Scarlet inspired by Cosey Fanni Tutti, organised by Gallien Dejean at the Plateau FRAC Ile de France, is an opportunity for us, a feminist collective, to bring together artists, researchers and activists around pro-sex feminism, so that their language, forms and critical practices fill the exhibition space.
The sex wars in the United States in the early 80s went unheeded in France. Lack of debate hindered the emergence of pornographic studies in French universities, as well as the possibility for artists (and performers) to be part of an aesthetical and political tradition of which Cosey Fanni Tutti in Great Britain (Prostitution exhibition at the ICA, 1976) or Annie Sprinkle in the United States (Public Cervix Announcement performance) were important actresses.
Discourse on sex in art can be dominated today by reactionary thinking that advocates debauchery and the 'right to be disturbed', confusing freedom and sexual violence and setting a French tradition of 'debauchery' against a so-called Anglo-Saxon 'puritanism'. This rhetorical backlash shows a great ignorance of the wealth of queer practices, based on an agreement between partners, whatever their gender, the refusal of distinctions homo/hetero and established hierarchies between sexual desires, like the American anthropologist Gayle Rubin expresses in her text 'Thinking Sex' (1984) and made popular in France notably by the writing of Sam Bourcier, Paul Preciado, Guillaume Dustan and Virginie Despentes. Creation of the journal Porn Studies (2014) establishes the institutionalisation of a critical field that has developed since the 1980s. This is a time for porn activist methodologies to be used in the production of artistic, militant and academic knowledge.
We are therefore proposing a sex-positive festival, one that will transform the Plateau into a place for discussions, screenings and feminist, queer and transformist expression.
Gina Fistamante, for Les Vagues
The work group Les Vagues is a feminist collective. Formed of professionals in visual arts, it meets to develop and implement communication between the world of art and history of art, political culture and activism from a set point of view. The collective identifies and gives visibility to instruments for positive change and supports feminist egalitarian professional practices, concerned about social justice.
Practicing intersectional feminist epistemology within the field of art amounts to putting to work the formats, discourse, tools of social sciences (history of art, political science, philosophy, cultural studies) of the militant scene (decolonial, LGBTQI+, queer, afrofeminist) in writings on art and its means.